Bollywood & Indian creative dance for kids and teens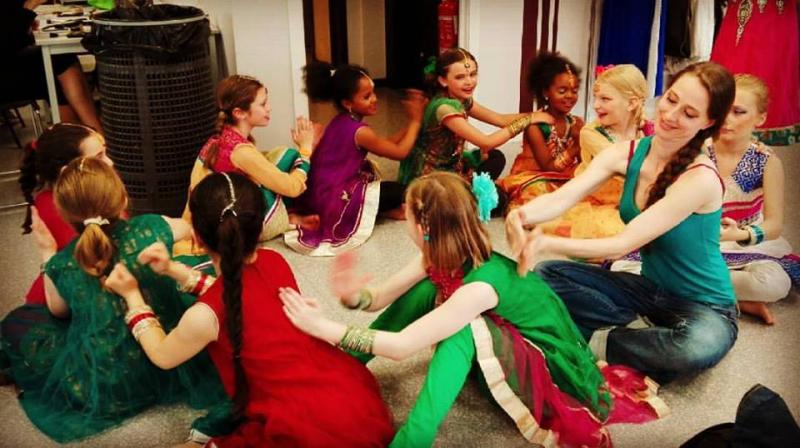 We offer dynamic and sparkling Bollywood & Indian creative dance classes, mixing several elements essential to us:
- choreographed storytelling with facial expressions
- hands and feet gestures, with body postures
- improvisation through creative dance to develop inventiveness
- find one's place in a group
The choreography of the end-of-year show is a result of the children's improvisation and the teacher's dance steps. Our experience allows us to say that children feel valued and that their self-confidence is enhanced. Click on this video to see a preview.
Our classes enable children to develop their bodies, their creativity and self-confidence, while dancing and having fun. Along learning twirling choreographies and getting acquainted with Indian culture, each child finds his/her place and evolves in/with his/her group. After one year of dancing, the children have the opportunity – if they want to – to do public performances (as in this video)
For equity, we no longer accept kindergarten children.
WEDNESDAY @ Poséidon (Woluwé-St-Lambert)
When: Wednesdays (except school and bank holidays)
* from 16.00 to 17.00 for the children aged 6 to 8 (1st to 3rd year of primary school)
* from 17.00 to 18.00 for the children aged 9 to 12 (4th to 6th year of primary school)
* from 18.00 to 19.00 for the teens aged 13 to 18 (secondary school) ( /!\ room 1b, 1st floor)
Fees: click here
Location: Poseidon in Brussels (room P2, second floor)
Adress: avenue des Vaillants, 2 - 1200 Woluwé-St-Lambert (see map)
Access: metro 1 TOMBERG;
            bus 28 MELARD
For any question, feel free to contact us or consult our Frequent Asked Questions
THURSDAY @ Pianofabriek (Saint-Gilles)
* Free trial class on 20 June 2019 *
When: Thursdays (except school and bank holidays) as of 14 September
* from 16.15 to 17.15 for the children aged 6 to 9 (1st to 4th year of primary school)
* from 17.15 to 18.15 for the children aged 10 to 15 (5th of primary school to 3rd year of secondary school)
One Thursday a month, both groups will gather together for a joint creative work (the schedule will be communicated beforehand by the teacher)
 
Fees: click here
Location: Pianofabriek in Saint-Gilles (Dublin room, 3rd floor)
Adress: Rue du Fort 35, 1060 Saint-Gilles (see map)
Access: tram: 3, 4, 51 PARVIS SAINT-GILLES;
             metro: 2,6 arrêt PORTE DE HAL;
             bus: 48 PARVIS SAINT-GILLES
  For any question, feel free to contact us or consult our Frequent Asked Questions