Odissi classes - Indian classical dance
We are extremely proud to organise the unique Odissi class in Belgium! The teacher, Nathalie Pieltain, is a specialist in this Indian classical dance.
Odissi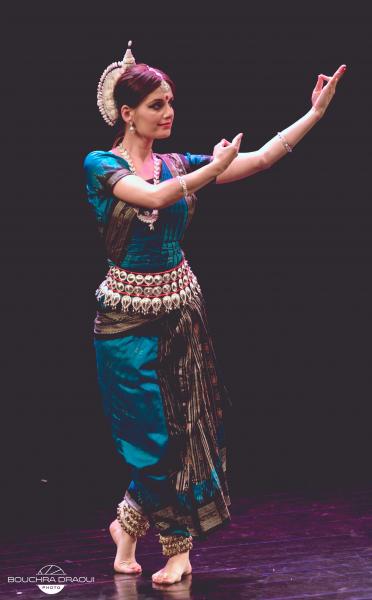 Odissi is one of the major Indian classical dances, next to Bharata Natyam (South India) and Kathak (North India). It has its origins in the state of Odisha, in the east of India. This very flowing and graceful style is characterised by:
* foot stamps
* delicate movements of the chest and head
* the mudras (position of the hands)
* the expression of emotions and the narration of poetic stories
Our Odissi classes
Our courses are divided into several parts:
* the greeting (Bhumi Pranam)
* warming-up and preparatory exercises that are characteristic of the Odissi dance
* learning basic positions: chauka and tribhangis
* study of the technical vocabulary: positions of the feet (pada bedas), gesture of the hands (hasta mudras)
* learning a choreography from the Odissi repertoire (presented at the biennial show)
OUR ODISSI CLASSES
* Open doors on 18 June 2019 *
When: Tuesdays from 19.00 to 20.30 (except school holidays and public holidays)
Fees
Location: Centre Rosocha in Brussels (ground floor)
Adress: Rue Brialmont 7 - 1210 Saint-Josse-ten-Noode (map here)
Access: metro 2, 6 BOTANIQUE, tram 92, 93 BOTANIQUE
For any question, feel free to contact us or consult our Frequently Asked Questions
Odissi history
All the Indian classical dances find their roots in the Natyashastra, a 2000-year-old encyclopedic treatise that comprises all the codifications of various regional classical dances and forms of theater in India. After long centuries of banishment and a rise of Indian nationalism, each Indian classical dance could come to life again thanks to this treaty, even though those dances were adapted to the era of their rebirth. Odissi is considered to be the youngest classical dance because it is the last one that came into life again. Indeed, in the 1950s, choreographers created the Odissi dance as we know it today, after having studied ancient manuscripts, temple representations, bas reliefs (Surya, Khandagiri and Udaygiri) and living traditions of local dances. Odissi is considered as a classical dance since its creators respected the choreographic characteristics of the Natyashastra.
Odissi can be distinguished from other Indian classical dances by a particular position, the "tribhang", where the dancer's body is divided into three parts: head, chest and legs. The music is typical of the Odisha region, and is completely different from Carnatic music (South) and Hindustani music (North).
Odissi dance is a sacred dance. It is closely linked to the regional cult of the god Jagannath (Krishna's avatar), as shown by the representations of the ancient temples built in his honour. It also owes its heritage to the maharis dances (servants of the Jagannath Temple in Puri) and to the local dance Gotipua, still practiced today.