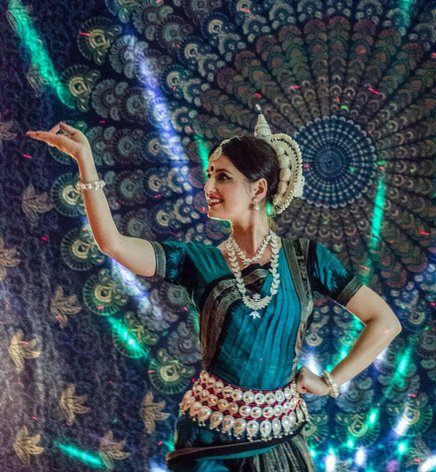 Passionate about India and dance, Nathalie began her training in Indian classical dance more than 10 years ago. For several years, she developed her style in Bharata Natyam in Brussels. Afterwards, she decided to go to India to immerse herself in the Indian culture. Since then, Nathalie has been travelling there every year to acquire knowledge in Ayurveda and to participate in several Bharata Natyam workshops in Bangalore and Madras.
During a performance choreographed by Leela Samson, where the 7 styles of Indian classical dances blended harmoniously, Nathalie fell in love with the Odissi style. Ashwini Raghupathy, a dancer and professor in Bangalore, initiated her into this traditional art and trained her.
Nathalie often travels to France to improve herself with the help of Mahina Khanum, who taught her the various pieces of the Odissi repertoire. Nathalie keeps on training, participating in various workshops in Europe with international dancers (Saswat Joshi, Colleena Shakti, Monica Singh).
During her last trip to India, Nathalie stayed for a short time in Orissa and did an intense training at Srjan School in Bhubaneswar. This allowed her to acquire a certain rigour in the gestures of Odissi.
Her passion for dance and Odissi gave her the desire to share this ancestral dance.