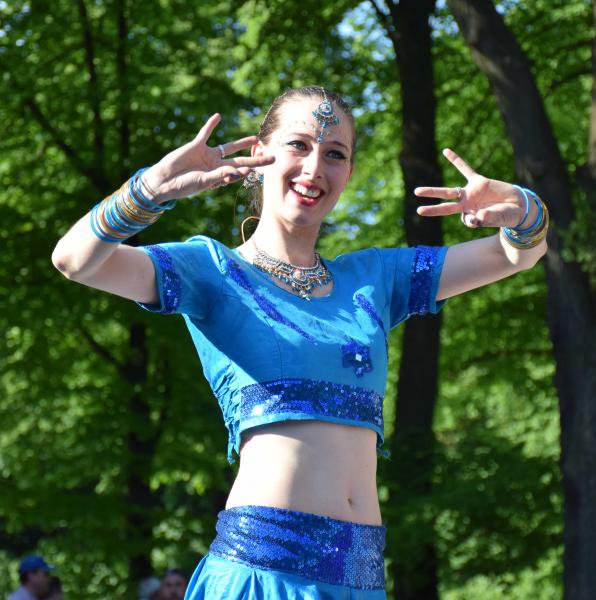 As far back as she can remember, Sarah has always danced! After seeing an Indian dance scene in a movie, she fell in love! The colors, the energy, the costumes !! Then an incredible journey started. She took her first lessons, practiced, studied, and eventually started teaching. 
The years of theater that she had also practiced helped her a lot to express the refined style of gestures of Indian Dance, the expressions of the face, the precise movements of the hands and body.
In 2006, she started studying Bharata-Natyam (classical dance from South India). More recently, she took classes of Kathak (North Indian classical dance) in Mumbai and Garba dance (Gujarat folk dance).
The world of Indian dance seems endless! Sarah is also interested in other styles like Ragga, Hip-Hop Jazz Rock, etc.
After opening several classes, Sarah created Tala & Nritya dance school, dedicated to teach Indian dance to everybody interested and Tala & Nritya dance company with professional dancers, to be able to participate in cultural events, shows or TV shows.
Thanks to these two structure, Sarah aims at sharing her love for Indian Dance. It is a complete form of art allowing you to tell and interpret beautiful stories.
Sarah is fascinated by the combinations of footwork and tours of Kathak. She loves the energy brought by the circles of dance and hand clapping in Garba. She admires the refined expressions of the face and gesture of the hands in Bharata-Natyam
Indian dances are often very energetic as well as extremely precise. Bollywood Indian Dance is a mix of ingredients of many of these dances, classic or folks, for an explosive result of colors, dynamism and happiness!